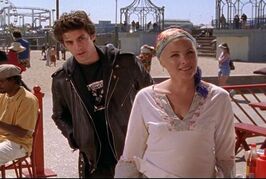 Sasha is Jess Mariano's father's girlfriend. She and Jimmy are not married, but they have been living together for some time. She is very friendly to all those that she meets. She has her own daughter from a previous marriage that did not last for long.
Also...
Sasha was originally supposed to be a character for a spin-off show about Jess getting to know his father and his new surroundings. The show never made it past its unofficial pilot "Here Comes the Son."
Sherilyn Fen, who plays Sasha, later became the character of Anna Nardini.
Amy Sherman-Palladino loved working with Sheilyn so much, she gave her the role of Anna.