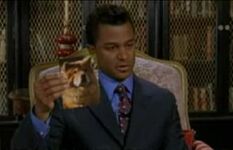 Chin-Chin is one of two chow puppies that Michel owns. After the Independence Inn catches on fire, and Lorelai has to start laying off workers, she does not have the heart to lay off a worker named Frank. She then asks Michel to. He comes back and announces that he could not fire him, but he did get two little chow puppies. He names one of the Chin-Chin and the other Paw-Paw. Chin-Chin is never seen during the series and does not get mentioned too much; however, in the final season of the show, Chin-Chin dies. A funeral is thrown in honour of him at the Dragonfly. Michel and Paw-Paw are greatly upset over this loss. but
Michel fed his dogs exotic dog food, as well as homemade biscuits and fresh-ground lamb. When Sookie dropped a sandwich on the ground at the Labor Day picnic, it was Paw-Paw who ate it. "Chin Chin doesn't even like barbeque" Michel said.
Also...
My Heart Will Go On by Celion Deon is Chin-Chin's favorite song.
Chin-Chin was buried at twilight (5:00 [which is when the show airs on ABC Family]).
Chin-Chin is cremated and has his ashes spread under a tree behind Michel's house where Chin-Chin liked to go.
Even though Chin-Chin did not like barbeque, Michel admits that Chin-Chin liked Luke's hamburgers.
The flowers at the service were red, yellow, and orange Gerbera Daisies to complent Chin-Chin's fur.